The Elf Wars Slots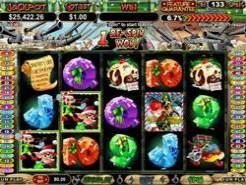 Current Jackpot
$19,878.79
Play Now
This is yet another Christmas slot with another theme. This time the Elves are at war. Go figure! But what is so great about this slot, as with the other Christmas slot games, is that the prizes are huge, the graphics and sounds are fabulous, and the bonus features are incredible. When you first gaze upon this slot game, you will notice cannons at the top. Guess the elves mean business. But the symbols are superb! Even the dreaded cards are gift-wrapped, lending yet another piece of wonderfully designed and intuitive creativity to The Elf Wars slots game .
Game Facts
The Elf Wars is a 5-reel, 50-payline bonus progressive video slot. The coin denominations range from 20 cents to $50, with a $250 per spin max. Now if you are on budget, use the lower denominations and work your way up. Also, there is a Feature Guarantee in this game which you will at the top right corner. This feature guarantee game consists of a side bet that is added to the slot bet for each spin of the game. The side bet ensures that a feature will be triggered with a given number of spins. At the top you will also find the Progressive amount, slot bet, win box, and the feature guarantee. There is also an auto play button for your convenience. We advise you to read the pay table by click on the help button located at the lower right hand corner of the slot. This pay table will give you all the information you need to make a successful run at this game.
Santa and Rudolph vs. Good Elves and Bad Elves
Normally considered wild symbols, Santa and Rudolph are both called substitute symbols in this game. They substitute for all other symbols except the two scatter symbols to form winning combinations. Get five of Santa/Rudolph symbols to win 2000 coins. The scatter symbols are the Good Elves and the Bad Elves. When they appear in winning combinations they will pay 100xs your bet.
Other Symbols of Note
Welcome to the North Pole, Frosty, motorized car, free food, cake, and Santa's List, Ace, King, Queen, and Jack, Ten, and Nine. Notice that some of these symbols are grouped in threes.
Re-Spin Feature
Get two or more Good Elves or two or more Bad Elves to trigger one re-spin. Reels with a triggering scatter symbol are held in place while the other reels are re-spun.
Feature Triggers
A pick feature is activated when three or more Good Elves appear anywhere o the reels after a Good Elves re-spin of 3 or more scatter Bad Elves appear anywhere o the reels after a Bad Elves re-spin during the normal game. Select a triggering scatter to be awarded 1 of 2 features. Either the Santa Strikes Back feature or Jackpot Spins Good Feature is awarded of the Good Elves are the trigger. Either the Rudolph's Revenge or the Rudolph's Rampage bad feature is awarded is the Bad Elves are the trigger. During the Bad feature free spins, Rudolph may appear grouped on reel 3 and if all 3 Rudolphs appear, then Rudolph will expand and triple all prizes if he substitutes in a winning combination.
Rudolph's Rampage Feature
If the Rudolph Rampage feature is triggered, Santa's ransacked toy factory is shown. You will be asked to select from 8 locations in the factory to try and find 3 missing elves. The less you have to pick, the more free spins will be rewarded – up to 50 free spins. During this feature, if you pick a red present then scattered bad elves act as additional Rudolph substitutes during the free spins. If you choose a blue present, all prizes will be quadrupled during the free spins. If you choose a green present, Rudolph will appear expanded on reel 3 during all free spins. All prizes are doubled during the free spins unless a blue present is found. Three or more scatter Bad Elves appearing during the free spins round after a re-spin will add 7 free spins to the round.
Rudolph's Revenge Feature
When this feature is activated, 7 free spins will be awarded. All wins are doubled. The Bad Elves will acts as additional Rudolph substitutes if 4 or 5 scatters trigger this feature. Three or more Bad Elves appearing during the free spins round after a re-spin will add an additional 7 free spins.
Santa Strikes Back Feature
If this feature is triggered, 7 free spins will be awarded with an initial multiplier of 1. Santa, the Good Elves, and the North Pole symbols have a background Candy Cane. When the Candy Cane appears on a reel, it will light the star at the top of the reel. Lighting all 5 stars will reset the number of free spins back to 7, and increase the multiplied by 1. This feature can reset itself up to 9 times.
Jackpot Spins Feature
If this feature is activated, a Wheel with 6 segments will be revealed. The Wheel will spin up to 3 times. Each spin of the wheel can award the Progressive Jackpot, the Santa Strikes Back Feature, or an instant prize of 100xs your slot bet.
Play The Elf Wars Slots
This slot game has some of the most unique features we've seen to date. It is perhaps one of the most popular of all Christmas slots because of these lucrative features. So read the pay table again carefully, and join and play The Elf Wars at our featured casinos.